The ideal dentist to population ratio immediately comes to mind when choosing a location for your startup dental practice
Whether you are starting your office from scratch or you're buying an existing office, you're thinking about how many dentists are already in the area who will serve your target population.
But how do you figure this out? Is there such thing as an ideal ratio?
Well, with a little bit of research, you can figure this out yourself.
It'll take some effort and time, but it will give you a GOOD idea of your competition and your available target population that you will need to serve to run your practice.
In this post, I'll cover:
Resources you can utilize to figure out dentist to population ratios and analyze demographic data to pin point a viable location
How to do a 1, 3, 5 mile radius study  around your prospective location.
I've created an excel file listing cities by zip code within 1, 3 and 5 mile radius around my office location.
I then plugged in the population data and number of dentists within each zip code to come up with the dentist:population ratio.
I'll go over how to do this below. I've made this file available for download, all you have to do is plug in your numbers.
Researching your competition and looking beyond the dentist:population ratio
Let's dive right in.
Download the Excel Template file so you can do a 1, 3, 5 mile radius study around your prospective location.
Where can you look for dentist:population ratios?
Do your own research

: Use google search in combination with demographic data from

zoomprospector.com

.
I used zoomprospector to look at important demographic data for my location and surrounding areas within the 1, 3 and 5 mile radius.

Start with the city of where your prospective location is. Once you hit go, you'll come to the following screen.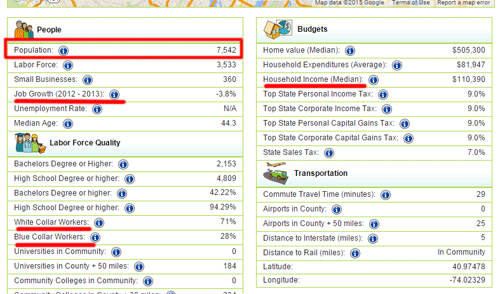 I've highlighted some important data such as population, job growth, % of white and blue collar workers, and median household income.
I'll reference this once again below as you continue reading on how to fill in the excel template file for your own location.
Using Google Search to manually come up with a number of Dentists in a specific area
Start out by searching for "dentist in +  [city,state] "

When you come to the search results on the 1st page, you'll skip the ads on top and look at the dental practices in the location you're looking up first. In my case, it's Emerson, NJ.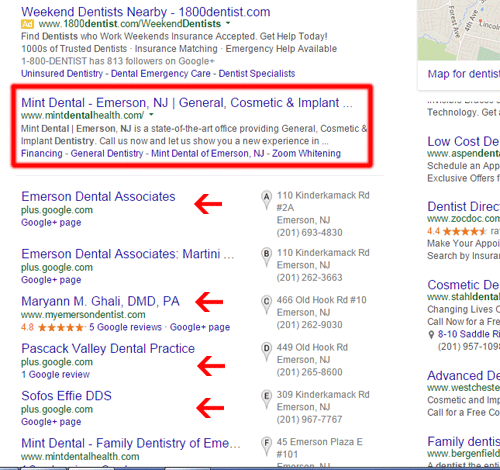 Be careful to avoid duplicate entries and only note the offices with address of Emerson, NJ.
Thankfully, my office is the 1st search result – with multiple entries on the same page!
You'll notice as you scroll down, google will show you surrounding area search results, so click on each office link and make sure the address still shows the city you originally searched for.
You're going to do this for each city in your 1, 3 and 5 mile radius.
Like I said before, it's tedious, but IMPORTANT.
————————————————————-
Hiring a demographics consultant professional.  Another safe route to take when looking for dentist:population ratio is to hire a professional.

REALscore provides reports and services helping Dentists with their location strategy.  David James is the President and CEO of REALscore.com.
I asked David what are the top three most important things a doctor needs to consider when deciding on a practice location in regards to dentist:population ratio and other demographics – here's what he had to say:
There are many things that go into an effective Location Strategy, but early on in the search, competition and demographics are #1 and #2.  Here are my top three tips:

1.     Don't start by finding a specific location and then hoping the competition and demographic data justifies it.  That rarely works and usually is a waste of time and money.

2.     Start by doing a location search for the general area that you are interested in (let's say you don't want to drive more than 30 minutes, so a 30 minute drive time search area from a specific point) and find the top 10 pockets or areas with the highest practitioner to population ratios, using census block technology.  At the end of the day, everything else can be great but if the market is oversaturated, it's likely not to be a great choice.

3.     Narrow down the top 10 to the top 3-5 based on personal preferences, schools, etc. and then conduct detailed demographic analysis of these top choices, again using census blocks and not zip codes and evaluating current as well as 5 year forecast data.
————————————————————-
Working with Commercial Real Estate Brokers:  Demographic data can also be made available by commercial real estate brokers, but keep in mind these brokers are in the business of leasing, so the data they provide may NOT paint the entire picture. You're better off doing your own analysis or working with a professional.
What is the most ideal dentist to population ratio to consider for a new practice?
There is no hard and fast rule or magic number to go by when looking at dentist:population ratio.
There are 2 ways to calculate this ratio – either based on zip codes or mile radius from a certain location. Which is better? Well, depends on how many miles are covered in a single zip code and the density of the population in the given area.
Looking at the 3-5 mile radius makes more sense because usually, patients will not mind travelling 3-6 miles to see someone they feel comfortable with.
I'm practicing in an area where the density of population is high and the dentist to population ratio is 1:633 within one mile radius. If you look at the ratio by itself, it is terrible.  So I decided to look at the three and five mile radius ratio also.
Here's how you should do a 3-5 mile radius study around your prospective location: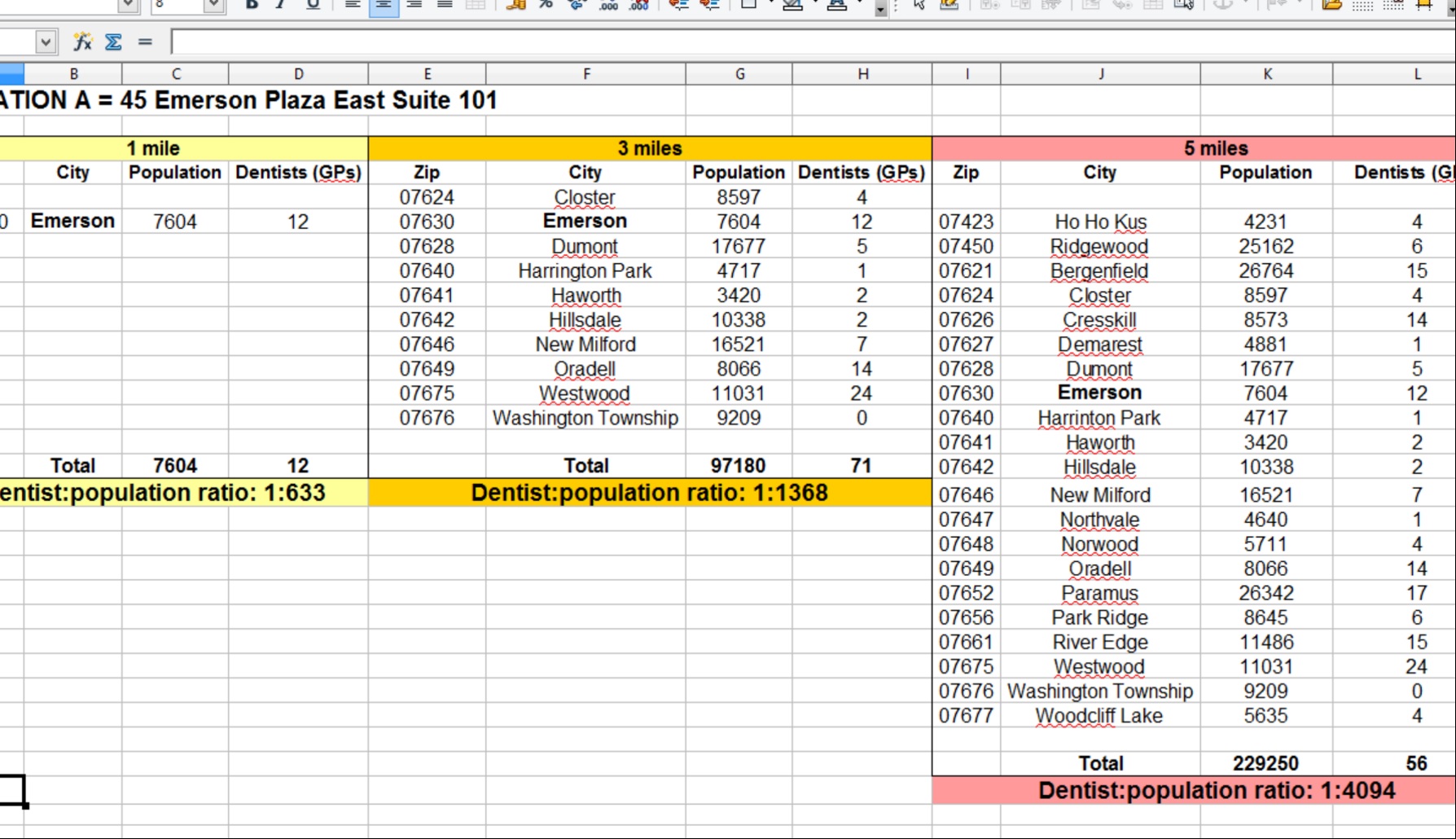 I created an excel file listing cities by zip code within 1, 3 and 5 mile radius around my office location. I then plugged in the population data and number of dentists within each zip code to come up with the dentist:population ratio. I've made this file available for download, all you have to do is plug in your numbers.
To fill out the excel sheet for your area, do the following: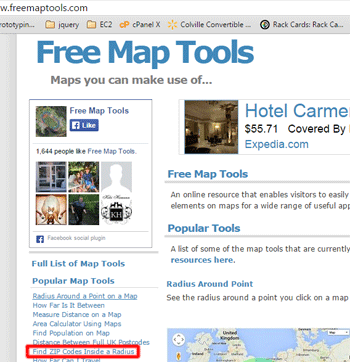 Under Options for Step 1: enter 1 into the text box for number of miles.
Enter the zip code of the potential space you're considering. This will be center of the radius.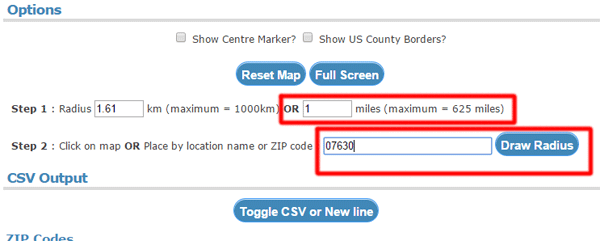 Click the "Draw Radius" button. Scroll up and the page will display on a google map a circle of radius 1 mile from the center zip code you entered. (my map below is for 3 mile radius around my office)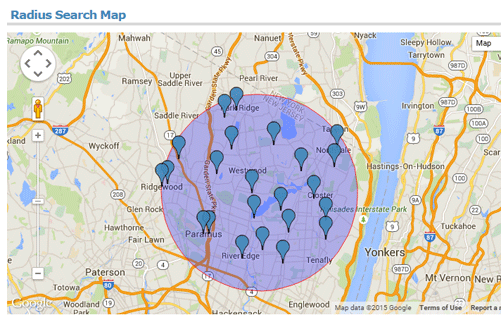 Scroll down to see the zip codes that fall within the mile radius. The last box shows combined zip codes  and corresponding cities that fall within the mile radius. (zip codes below are within 3 mile radius from my office)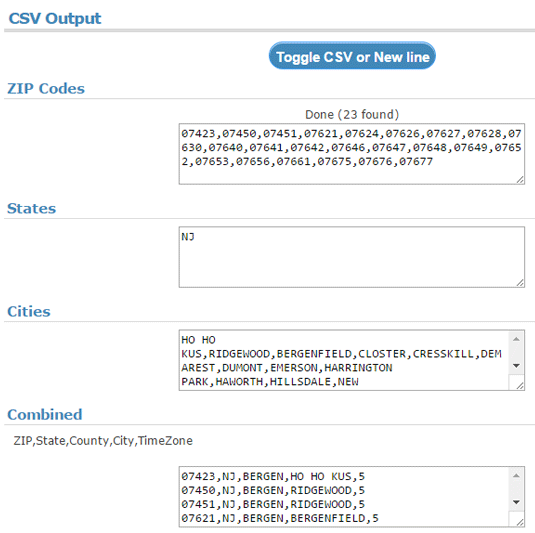 Repeat this for 3 miles and then for 5 miles. Use the information from this website to fill the excel with different towns/cities.
Use zoomprospector.com (as shown earlier above) to fill in population data.
Why dentist:population ratio doesn't always paint a clear picture
You could be in an area with a lower dentist:population ratio, but what is the population like? For example, the area may have majority of the population who are retirees on a fixed income and have less money to spend on dentistry. Use your demographic data from the website I've mentioned above to look at income levels.
Research your competition:
Consider an opposite scenario to the above – if you're in a higher dentist:population area, find out if there's an underserved need. My three mile ratio is 1:1368. If I look at the ratio by itself only, it is not great. But I decided to look beyond the ratio and researched my competition:
Look for their website online:
Do a google search individually for all the dentists around the prospective location (within 2-3 mile radius) and look at their website (if they have one).
I was surprised to find that out of 71 dentists in the 3 mile radius, less than HALF of them had websites.
You need to look at your competitors' websites because you can get a sense of how ACTIVE your competition is online.
Dental Insurance participation:
Look through the websites and see which insurances are accepted by the offices. For the offices that don't have a website, call as a potential patient and let them know you're in the market for purchasing a self funded dental insurance, and you want to find out which ones they accept.
Don't assume that most offices will take majority of the insurances, you want to be sure and find out. I did this for the ten closest offices to my location and found out some didn't accept some of the major PPO insurances such as Aetna, Delta, Cigna.
Look at their Office Hours:
Find out if any offices offer evening / weekend hours. If offices aren't open late around your location, you may consider opening up your office during hours others aren't open.
Conclusion:
Although dentist:population ratio is an important factor to consider in your decision making process, you need to look beyond the numbers and look at the factors discussed above to find out more detail about your competition.
Do your due diligence and use the excel sheet to do your 1, 3, 5 mile study around your prospective location.
Do this for at least two locations you're considering, so you have something to compare.
Study your competition by looking at their websites, dental insurance participation and office hours. Pretend to be a prospective patient and call the offices around you.
Once you've decided on a location, your next step is to begin the lease negotiations for your dental office space.
Continue to tune in to find out the details on negotiating your lease and what you need to know before you sign on the dotted line!
Don't forget to leave feedback or any questions you may have regarding anything discussed above!