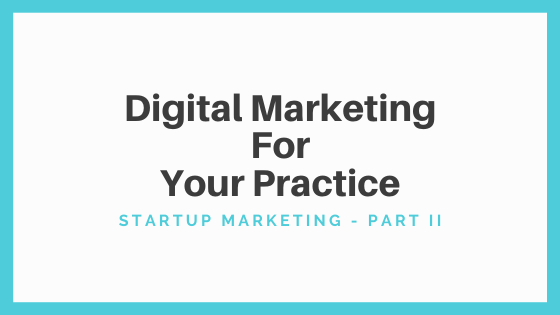 From my own experience of building websites in my previous stint before dentistry as a software developer, the goal of this post is to give you a different perspective as a practicing dentist on how you should approach this constantly changing landscape we call – Online marketing for dentists!
If you're in your own practice already, or if you're opening soon – you may have heard of the phrase "digital marketing" – either because you read about it in a dental journal on practice management or from a marketing agency that takes care of your online presence for you.
In my previous post Startup Dental Office Marketing, I talked about traditional forms of marketing for getting patients in the door for your startup dental office.
For this post, I'd like to go over digital marketing. By definition, digital marketing, put simply, is any form of advertising delivered over a digital medium or an electronic device.
Think radio ads, tv ads, mobile phone ads, etc. TV and radio ads have been around for a long long time. But today, some mediums have taken over others – meaning, majority of the industries are seeing more returns on their investments delivered via internet either through a mobile device, computer, etc.
We will not get into TV and radio ads for this post. But instead, let's give you an overview of the following that falls under Digital Marketing for dental practices.
Online Marketing for Dentists
Practice Website
Email Marketing
Social Media
Search Engine Optimization (SEO)
Local SEO
Google My Business Profile optimization
Practice Reviews
Citations: Business listings on third party websites
Facebook / Instagram ads Google Ads
Groupon
Each topic above can be a book by it self. For now, I'd like to give you an overview of all these, and give you details of individual topics in future posts!
Your Practice Website
Your practice website is your home on the web. Of course, now days, you have other social media platforms where you can create your own YouTube channel, Facebook page for your business, etc. – but that's still somebody else's platform. Your Facebook page is your home on somebody else's property.
Your practice website on the other hand, has its own address and you are the owner of the content on the website.
There can be a whole series of posts on this topic, but for now, I'd like to discuss some options you have available to getting a website for your practice.
If you're wondering how you can get your own website, here are some options you have:
Hiring an agency to build a website for you
Hiring a Freelancer to build you a website
Using a framework like WordPress or website builder like Wix and Squarespace to quickly start creating on your own
Hiring an agency to build a website for you

This option for obvious reasons will be the most expensive option of all. But doesn't necessarily make it a bad option.
If you know NOTHING about building websites, or you feel as if you don't even want to try to see if you can do on your own using simple website builders, then don't bother continue reading with the rest. I'd suggest going with this option and moving on.
The cost will vary anywhere from $2k- $10k. Why the big range? Because it depends which other options you're going with . Now days, agencies will not only create your website, but will offer a retainer package where at a monthly cost, will provide basic SEO (Search Engine Optimization) services, basic website content updates, etc.
Some may also offer Paid Ads services (Google Ads & FB/Instagram ads) and build landing pages that bring you leads (patients) to your website.
If some of these words flew over the top off your head, don't worry. Don't expect to understand everything at this point. Digital marketing is a world of its own and some colleges and universities have degree programs designed to teach it. So don't expect to learn it overnight.
However, you will eventually have to run some form of Digital Marketing – whether it's free (organic) or paid (through ads) – because that's where your prospective patients are hanging out.
So how do you choose the right agency? Best is through referrals. Talk to colleagues who've gotten their website developed through an agency and find out if they are happy with the results.
In the future, I plan on talking to few agencies that I know are on the Dental Facebook Groups – and do an interview format kind of post where I will ask questions regarding how someone can get started with them, what's involved, cost, how to choose
Hiring a Freelancer
You can hire freelancers through a website like Upwork.com – where you can search through web site developers and hire them on a hourly basis or project basis. You can read through their ratings and see how their previous clients have rated them.
As you can see in the screenshot above, you can do an extensive search by filters such as hourly rate, english level, job success %, etc.
Once you've created a description of your job for what you're lookign for, you can for example search for "website design wordpress".
From the search results, you can click on the individual profile to see their reviews from their previous clients and invite them to view your job description to see if they'd be interested in working with you.
There's also 99designs.com – where you can either choose to work directly with the designers or start a contest where designers may submit let's say the Homepage designs – and then you can pick your best one to work with.
Remember, there are agencies who are also listed on these freelancing websites – and for that reason, prices will vary also.
Some things to keep in mind when working with a freelancer:
Although you will save money going with a freelancer route, be prepared to do some maintenance yourself. If you know nothing about how websites work, then it's probably not a good idea to go this route.
If you're willing to do a bit of research on your own, there are tons of YouTube tutorials available to teach you how to take care of some basic SEO and updates to your website on your own – AFTER you've had a freelancer create the website for you.
Never pay up front for all the work. You should come up with deliverables prior to getting started with your designer. Meaning, once you've started a conversation with a designer, let them know as they start to show you different sections or pages on the website, you will release payments in installments.
Before making a final payment, you should KNOW how to access the admin section of the website, so you can do some basic updating and maintenance of the website.
Using a framework like WordPress
WordPress is powering a little over one-third of all websites on the internet. The White House and Microsoft also utilize WordPress to power portions, if not all, of their websites.
When it first came out many years ago, it was simply a tool for bloggers – but since past few years, it has turned into a full fledged tool for designing ANY kind of website in ANY industry. On top of that, there are plug-ins available made by third-party software developers that can customize a website to pretty much do anything you can think of.
I made the first version of my office website using a pre-built template, for which I paid $30 back in 2013 – I then switched to hosting it on a wordpress framework and bought a word-press template for $60.
Even if you decide to go the agency route, chances are, they may end up utilizing Word-press themselves. If you ever need to make updates to the content, it's as simple as using Microsoft Word. You can log-in to the admin account, and edit pages like you're editing a Word Document.
Wix and Squarespace are the two top names that come up in the category of website development tools. They both feature drag-and-drop functionality when designing a website from scratch.
I've never used them before, but here's a link to a website that does a good comparison of both: sitebuilderreport.com/wix-vs-squarespace
To compete with Wix and Squarespace (drag-n-drop) website builders, there are now tons of word-press templates that allow the same thing. For under $100, you can purchase a drag-n-drop functionality plug-in that you can use either for your existing website or a brand new one.
SEO for Dentists
Even if you're not a techie, chances are you've heard of this term being thrown around. What is it? It stands for search engine optimization.
It indicates how optimized your website is when patients search for something they're looking for in search engines such as Google and Bing.
Google search engine still has the biggest market share and that's what most people are using to search anyways, so skip Bing. When was the last time you used Bing to search?
There are many factors that affect how your website ranks according to Google search algorithms – but there are some things you should probably do if you're counting on your website as a medium through which you expect to have patients find you.
SEO itself is a big topic, so I'll cover only the basics you should be aware of as it relates to your practice website.
Keywords – this is what patients are typing into the search box when they're looking for a dentist. Your website, as well as the individual pages need to be optimized around these keywords so it's easy for Google to recognize that website or a specific page is a good resource to show in the search result.
This does NOT mean you should stuff your entire website and pages with keywords. For instance, if you're trying to rank for NYC Dentist – you cannot stuff your homepage with the keyword NYC dentist a thousand times.
First of all, for the reader who comes to your website, as they're reading through your page, it looks and reads awful when NYC dentist is made part of a paragraph ten times.
Second, Google algorithms have gotten much smarter and will actually lower your rank if you do this.
Best thing you can do is , although keywords are important, do NOT write content for google – your content on your website should be written for the end user – the patient!
Once your content is coherent (easy to read, grammar, etc.) for the end-user, you can then optimize it for Google, so it's easy for the search engine to "index" your website or page when it's crawling through it.
Mobile optimization – Since majority of your patients are on their mobile, Google looks to make sure your website is optimized for mobile devices. It used to be that if your website wasn't, it may not have affected your ranking.
But according to latest algorithm changes, if your website is not user friendly on mobile devices, your rank will be lowered.
Authority / Back-links – Google determines the authority of your website by figuring out how relevant your content is to what the search intent is. The other important factor is the back-links. A back-link is when another website is linking to you.
This doesn't mean just any website can link to you and it will increase your ranking. In the early 2000, people were purchasing domain names by the dozen and linking it to their main website to increase ranking – referred to as "black-hat SEO" technique. Although it worked temporarily, it is completely banned and looked down upon by Google.
Your rankings will improve when your back-link is also from a website with higher authority.
Local SEO
Local SEO is optimizing a website for a physical location business (brick and mortar business) for location based keywords, such as "dentist new york", "dentist park ridge, nj", etc.
Local SEO includes optimizing not only your practice website, but also your Google Business Profile.
For us dentists, local SEO is the low hanging fruit. Even if you don't do content marketing, or have a consistent blog around dental health topics on your website, I'd strongly recommend at least optimizing your website for local SEO.
Citations: It is any mention of your business around the web. It's a must for verifying that your business exists, establishing trust – in turn, increasing your "spread" around the web and, ultimately improving your local SEO score.
What's more important is the accuracy and consistency of your citation across the web. If your hours are listed different on your Google Business Listing vs on other platforms such as Facebook, Yelp business listing, FourSquare, Angie's List, etc – it's confusing to Google and may result in a lowered seo score.
There are tools available online that help you manage your citations and help you find where to list your business online for better local search rankings.
When I started I used Yext's citation tool to get my website listed across as many other 3rd party business listings websites as I could. Their tool has evolved since 2013.
There's another tool called Brightlocal, which lets you do the same.
Again, you're looking to manage your citations only. These tools offer many other products on top of citation management, but if I were you, I'd just sign up for citation management tool.
Your Google My Business profile:
By setting up a Google My Business profile, you're claiming your business listing on Google. It's super important for your ranking in google search.
Best way to start is to just go to google and type in "Google My Business Profile" and fill out all the information to complete the profile as much as possible.
If you're starting up, or have acquired another practice – Google will need to verify your business after you've started to fill out your Google My Business profile.
I will do a detailed post in the future getting into the specifics of my own website. I haven't updated my own website in about two years. Ever since then, the usability of my website on mobile device is down. How do I know?
Try one of the many free tools Google offers to website developers. Here's one of them: Mobile-friendly test.
Reviews
Google Reviews
Positive reviews are important and will impact your seo, specifically your local seo ranking. It impacts how your listing shows up on the map listings in Google.
Here's a picture below of how the map listings show up on google when you search for "dentist emerson nj". My practice listing is in red.
More reviews the better. Is it always true that the person with the most reviews shows up on top? Not necessarily.
Below is another picture of the map listings when I searched for the exact same term, just on a different day:
Notice how my practice is not showing on the top three listings. It's there when you click on "More places".
How Google decides to show your listing is dependent on a bunch of different factors including distance from where you're searching, time of day, etc. Don't overthink it, but just remember to try to consistently get reviews and don't forget to reply to the reviews you get.
Facebook reviews
At the end of my day at the office, when we send out an email link through an email campaign to certain patients, I include a link to leaving a review on Google and Facebook only.
I really only concentrate on getting Google reviews since it's most important. But if some patients wish to leave a Facebook review, they can do so easily on the platform. This is especially true for patients that don't have a gmail account since it's required to leave a review on Google.
Yelp reviews
I used to include the link in our emails to leave Yelp reviews, but I stopped doing so since their algorithm filters out genuine reviews left by my patients.
When I started my practice and as I started to get some Yelp reviews, they contacted me to advertise on their platform. I declined to advertise and then automatically my genuine Yelp reviews started to filter out to go under the category of "Not recommended reviews".
I have gotten few patients stating they came because they saw my yelp reviews. But I don't even bother to send the link to leave a review on their platform.
Here's the link to my practice page on Yelp. As of today, there are 15 reviews that are shown, and 19 reviews that are "Not recommended" even though they are genuine reviews from my patients. You can see those when you scroll all the way down to the page and click on the grey link on the text "19 other reviews that are not currently recommended"
Email Marketing as a strategy for Online Marketing for Dentists
If you've subscribed to our newsletter here, and you're returning to the website after clicking on the link in the email, which brought you to this new post – that's email marketing.
I'm using email marketing to stay in touch with you and the rest of our subscribers who have opted in to receive emails when any updates occur on this website.
Using email as a way to send newsletters, helpful content, promotional messages to your audience can be a good way to stay on top of your patients' minds.
Email is a great medium through which you can communicate with your patients – especially since patients have access to their email instantly via their phones. How many times do you check your email in a day?
However, most email marketing that is done by brick and mortar businesses, professionals (doctors, lawyers,etc.) – majority of the messages tend to be promotional. No one wants to read an email from their doctor – unless it's super important and relevant to their most recent visit.
In my practice, I use Mailchimp to send emails to patients. There are other tools available on the web that do the same thing, such as Constant Contact, Active Campaign, and many others.
But I've been using Mailchimp since the beginning because I'm used to using it and it does the job for me.
You can get started for free. I'm still using it for free. The free tier is based on the number of subscribers or number of email contacts you have in your database. When I started, as long as your subscriber database was under 1500 emails, you could use it for free. That number is now increased to 2000!
I have not sent out any promotional offers in my email, but I've sent few office anniversary emails where we thank all of our patients.
Today, I use it only for sending out Review requests where I ask patients to leave a review either on Google or Facebook.
What I love about it is you can see all your campaigns you've set up, pre-schedule your emails to go out at a certain time, and then once they've been sent, you can track who opened the emails and who actually clicked on the review links in the email.
This is not specific to Mailchimp, most email marketing tools will have this functionality.
If you're going to write helpful articles to put on your website blog (not something that is only 500 words long and is pretty much a mash-up of other info found all over the web), or even create videos to be posted on your YouTube channel, or your Instagram page – you should also be sending out an update to your patient base linking to the video or the article.
Facebook / Instagram
We're all on social media. Everywhere you read online, the common business advise is to post as much as possible on your Facebook and Instagram page to get your patients' attention.
Most of the generic content we see on dental facebook pages – is posts like the following: (post pics of posts like brushing teeth), but organic reach is nowhere where it used to be. It has become a pay to play (via ads) game.
Unless you generate an engaged community by posting content that is emotionally engaging among your audience – organic posts are just not going to get the share, or the likes you want.
And the most important part of it all – the entire process has to be consistent. You have to engage your audience on a consistent basis to keep them coming back and keep them tuned in.
Only then, you can go ahead and post promotional messages, and you're likely to see some ROI from this "warm" audience than trying to sell to a "cold" audience that has never heard from you or are just being sold to with each message.
Don't let this discourage you from trying to develop a following from scratch on social media. But you need to understand that it's a long game.
With time to create engaging posts and with consistency, you can develop an audience that is not only engaging, but also who will buy from you after hearing about you on social media. They will even promote you to their friends and family without you asking!
Paid Ads
Facebook Ads
If you don't have the time to create content consistently, you could create a strategy to create few valuable pieces of content – preferably video – and promote it via paid ads to an audience in your community through Facebook Ads. How you do this, is a subject for another post.
Google Ads
When I started the practice, I did a Google Adwords Express campaign, which was the simplest way to get started with Google Ads for small businesses.
Instead of messing around with a whole bunch of keywords, all I did was target everyone in the 5 mile radius from my office. I spent about $1100 a month for two months and then I turned it off. I got a few patients from there, some of them got work done, and there was a very small ROI.
I didn't lose money doing it, but it wasn't the greatest return for my money spent. I was getting phone calls from patients who would schedule appointments, but would no-show just because of the distance.
I also realized that in order to see a proper ROI, I'd have to spend more time learning it my self and do it for a longer term to learn which ads work and which don't. It's not something you can set and forget.
Google Adwords Express has now become part of Google Ads and it's no longer a standalone product. If you're going to venture into Google Ads, I wouldn't say you can't do it on your own, but you need to spend the time to learn how to set up proper keyword campaigns. Google offers these resources completely free, of course, and there are tons of tutorials on YouTube, free podcasts available to teach you all of this.
If you don't have the time, there are agencies out there who will do this for you in addition to developing your website.
Groupon
There's a reason why I'm leaving this as the last thing to discuss in the topic of online marketing for dentists.
Around 2013, Groupon was a big rage. Lot of people were using it. I even saw dentists advertising on it – mostly for whitening and exams.
I decided to do it for whitening and exam as well. It was mostly to get as much exposure of our practice as possible.
I wasn't making money on it because groupon takes 50% of the purchase value. Again, this was for exposure in the beginning.
Although it wasn't an instantaneous return on the campaign, few of these patients are still with the practice today. One family combined has spent $10K with me in the last five years – implants, crowns, basic restorative, hygiene visits.
The main investment into something like Groupon is your TIME. At the beginning when you're starting out, you have plenty of time. Your goal is to not make money right away, but to get as many patients through the door to meet you and your team. Some will come just for the cheap deal, and some may actually stay.
Fortunately for me, it was a positive return compared to the Newspaper and the ValPak advertising. It's not because the deals were different – it's because Groupon had a lot of exposure at the time, and LOTS of people were using it. Newspapers and valpak – not so much.
But now six years later, Groupon is not the same. Their traffic is just not where it used to be. You're better off spending your time and money on Facebook ads instead.
What should you do?
Whether you're established or starting your practice from scratch, a practice website that is properly SEO optimized is a must. That includes usability on mobile devices.
Start creating educational content (videos preferably) around everyday questions that patients bring up. Turn those videos into a promotional campaign on Facebook ads to build up your "warm audience" for your Facebook business page. Don't rely on your Facebook likes or organic posts.
Keep your Facebook marketing in house. If you don't know how to do any of it, go to the source – Facebook itself has tons of tutorials to help you get started and understand the foundation of what goes into building an audience that will buy from you. You won't need a million followers, not even a hundred thousand – just enough of your loyal fans that will spread the word of your practice. Find those fans by creating valuable content on a consistent basis and promote it in your community.
I hope this was a good overview, but stay tuned as I'll try to bring you some detailed posts on some actionable tips you can use to get more new patients for your practice.