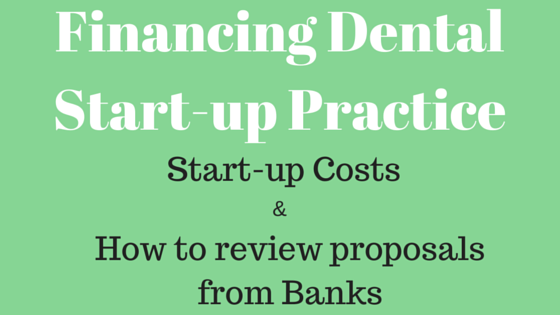 If you're thinking about your dental practice startup loan, you're wondering how much do I need? And to determine how much you need, you're wondering what the costs are involved in starting a dental practice. Where do I get it from? and when do I start?
Unless you've got a hefty savings account, chances are, like the most of us, you'll need financing for your startup dental office.
It means going to the banks to get the money. You already have boat loads of student loans and you're thinking am I going to get a loan for such a big amount on top of my student loans?
The answer is, YES!
After reading through this post, you'll have a good understanding of how much you should borrow when you're starting out and where you can get it from.
Make sure to read on to get more details on the following:
When you should start to apply for your loan

Dental practice startup costs

What are the major banks that will lend me money and what information do I need to start the process?

What to look for when comparing proposals from banks
When do I start applying for my dental practice startup loan?
Since you'll be talking to the banks for financing, it's never too early to start talking to them about your financing needs. The application process for pre-approval may take couple of weeks only, but you need to find out how much the banks are going to pre-approve you for.
It's obviously important to know how much you can stretch yourself financially for your dream office BEFORE you actually sign the contract to start the build out of your office.
You should start talking to banks as early as you're starting to look for available office spaces for lease. By the time you start to narrow down your lease negotiations for your preferred location, you'll have an idea of pre-approval from different banks.
NEVER SIGN A LEASE without knowing how much you've been approved for.
Dental practice startup costs
To figure out how much you'll need, you'll need to determine first what it's going to cost to build the office of your dreams.
If you haven't sat down to think about what kind of practice you want, not just for next two to three years, but possibly for next ten years – then read my post on Where Should I Start The Process of Opening My Dental Practice? before you move forward.
Let's assume you're going to want a 2000 sq ft of office space, which will allow for six to seven operatories.
To start out, let's say you'll only equip three operatories, but have all the rooms plumbed and ready for future addition of operatories.
Here's a table of breakdown of major costs involved in opening the doors to your office: The numbers in the table below are my numbers, but they'll vary depending on what you want.
| | |
| --- | --- |
| Professional Team – Architect, Attorney (lease) | ~ $7000 |
| Office Lease Security Deposit | ~ $7500 |
| Construction | ~ $175,000 |
| Equipment + Cabinetry (if not included in construction) | ~ $75,000 |
| Marketing | ~ $15,000 |
| Working Capital | ~ $50,000 |
Details of the breakdown costs:
Construction

: The cost of building your dental office will vary by region. It also depends on whether you're building an office from ground up or building within a leased space.
I received bids from two different contractors. For my 2200 sq office, one proposal was for $79.50/sqft and one was for about $100 / sqft. I had also negotiated $10/sqft as Tenant Improvement allowance from my landlord, reducing my final cost of construction by $10/sqft.
Both proposals were similar with very minor differences. We'll get into details of construction in future post, and I'll post copy of the proposal from my contractor so you know what to expect in a construction contract.
Equipment, cabinetry, supplies, and furniture: If you start to talk to the big banks (Bank Of America, Wells Fargo, PNC) who typically work with dentists for financing of their offices, they will tell you how much of your loan should go towards your construction, equipment, working capital,etc.
The total amount you'll need will also vary by how many rooms you decide to start with because that's how many patient chairs you'll need right away.
There are many variables that come into play when determining how much will go towards equipment such as the brand, new vs used, and who you buy from.
I bought one year old used x-ray heads, basic instruments and other supplies from a doctor who was moving out of the country and saved a ton of money. I bought furniture from IKEA, Target, Home Goods to set up the consultation room, reception area, etc. This cost will vary depending on your taste.
I'll post on equipment and supplies in detail in a future post, but approximately $50K will go towards equipment and supplies.
Marketing: Don't forget to include the cost of marketing when starting out. How else are you going to get patients in your chairs? You need to let your local residents know you're there!
For marketing, you're going to start with a website ($3K-5K), and direct marketing (Flyers, newspaper ads, etc), and Google Adwords ($$$). You're going to try everything and see what works and what doesn't!
Cost of direct marketing varies by size of the postcards, which company you go with and other services such as call tracking & training.
With direct marketing, your potential patients need to see your name more than once before they make the decision to come to your office.
So plan on sending out 10K fliers for at least three rounds when starting out and TRACK where your patients are coming from.
After the first three rounds, I changed the company for my direct mail campaign. I sent out fliers that are inserted into Clipper Magazines. I spent extra on the size so it stands out, but it was still cheaper than my first three rounds.
I reduced my cost to less than half, and my ROI went up four times of what it was with the 1st company.
My fliers went out every other month to varying local zipcodes for the first year. Clipper flier insert worked for MY AREA – but doesn't necessarily mean it'll work for you. But you don't know until you TRY.
We'll get into the nitty gritty details in the future, as it's the MOST essential part of planning for the growth of your office and also because it's my favorite subject!
Working capital: Banks provide working capital to help you in your first couple of months to build up your cash flow. Most banks will provide up to $50-75K for working capital.
After you open the doors to your office, the working capital should be used towards an investment that's going to generate more revenue.
What I mean is that if you need to buy something (more marketing, CE, equipment) that's going to bring in more patients or more revenue instantly (more $/procedure such as implants), don't wait until you build up cash.
For instance, You should utilize your working capital for investing into equipping more rooms because you're hitting capacity, buying implant equipment (implants, motor, restorative components, etc), spending more money on a form of marketing that works for you already.
Do not spend the working capital money on upgrades and buying gadgets for the office, always ask yourself:
Will this investment bring in more patients? or will it help increase $ production / hour RIGHT AWAY?
I did not take the full $75 K. I only took what I needed – $50K.
Six months after opening my office, I bought a PANO, invested into a comprehensive Implant Course (over several months) and Implant system for the office – all which was paid in full by cash flow generated from patients.
Implant course ($7k), Implant Equipment ($10K), Pano ($25 K) – total of $42K was not paid upfront. You can negotiate payment plan with MOST vendors without getting into financing.
Investing into implant CE and the equipment paid for itself within seven months after it.
So, the lesson is this: PAY CASH if you can and don't finance it. Only borrow what you need.
What are the major banks that will lend me money and what information do I need to start the process?
There are some big names that pop up right away when researching on Dental practice financing – Bank of America Practice Solutions, Wells Fargo, PNC, Live Oak Bank, US Bank and Chase.
Most of these names do business at the national level, there are some smaller regional banks that provide financing for dental offices.
Banks WANT to lend money to dentists because of our low risk of defaulting on loan payments. There's plenty of competition in the market for banks wanting to do business with dentists: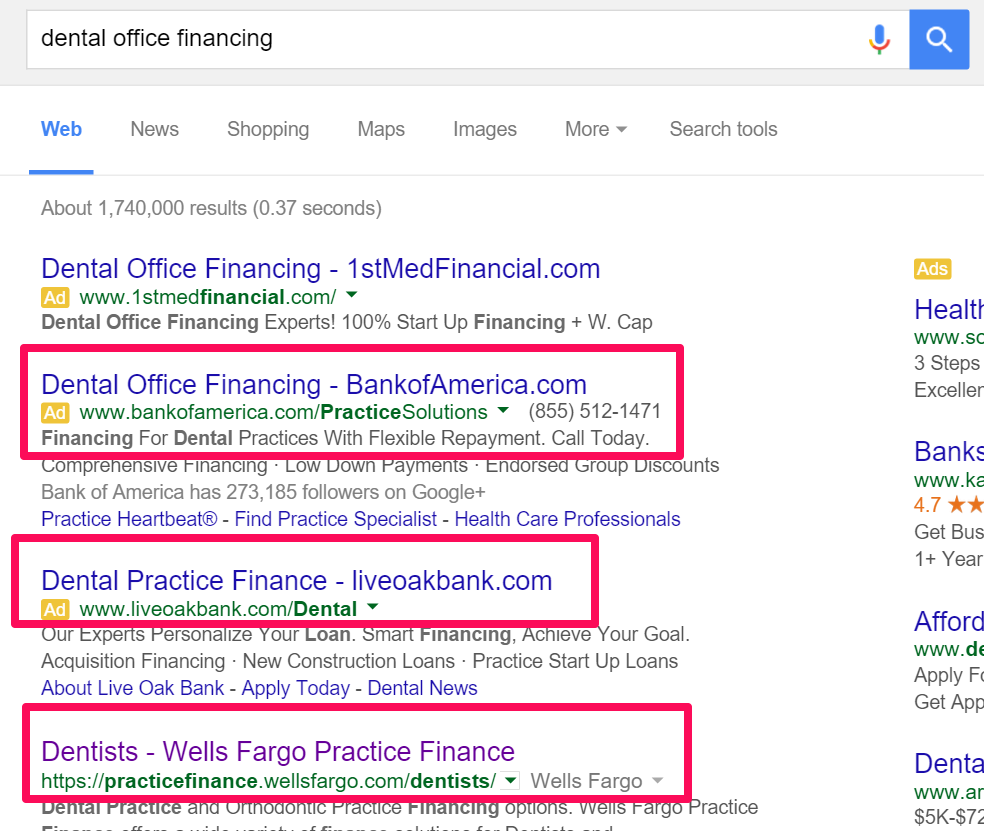 Search on google for "dental office financing" – brings up the big names right on the first page.
You may also want to check with local credit unions in your area that may finance a startup practice.
Big vs. Small Banks – Who should I go with?
When considering to go with a national big name or a small local bank or a credit union for your dental practice startup loan, you have to consider their experience in working with dentists.
There was a time when you could get better terms and interest rates on loans from the local smaller banks. However, due to the competition in the market among the bigger banks (Bank of America, PNC, Wells Fargo, etc.) – you'll find the rates from the big boys to be highly competitive and, at times, lower than what your credit union can offer.
The bigger banks have a track record of lending to dentists for many years – they have solid systems in place to administer and manage the loans during the build out phase of your practice.
Why is this important? – The bigger banks realize that each step of starting a dental practice from scratch – the permit process, the construction, the design, and equipping is time consuming and, therefore, have efficient systems in place to reduce paperwork and pay vendors on time to make the build-out phase of your practice go smoothly.
Stick to two big names, and if you really want to, talk to one other local bank or credit union to see what terms they'll offer.
What information do I need to get started with my dental practice startup loan?
You'll want to call up each bank to find out specifically what they need to get started, but in general, they will all require the following:
Credit Application – Banks will ask for a list of your liabilities(rent/mortgage, student loan balances and monthly payments, car payments, credit card balances, etc.) and assets (home or other properties you may own, investment account balances, etc.)
Previous two years tax returns
Most recent two or three pay stubs – if you're getting a 1099 from your associateship, then get copies of most recent checks you've deposited from the bank. The bank will tell you what you need to get.
Most recent Checking and/or saving account(s) statements reflecting balances
Some banks may require additional information on top of what I already included in the list above, but be prepared to have the documents ready.
What do I look for when comparing terms from different banks?
Loan Term: Typical loan terms for dental practice financing are 7 years, 10 years and 15 years.
The term will determine your monthly payment you'll be making to pay back your practice loan. Shorter the term, the higher your monthly payment will be at a lower interest rate.
I took the 15 yr option at a higher interest rate. Why? Because I was trying to keep my monthly payments at a minimum even though I was a on a gradual payment schedule. I took this option because I wanted to minimize my risk in the beginning phase of the office while building patient base and cash flow.
Interest Rate: When comparing the rates different banks are offering you, don't always go with the bank offering the cheapest rate.
Make sure to look at all the terms of the loan, prepayment penalty clause, collateral requirements, etc.
Discuss with your accountant to see which option makes most sense for your financial situation over long term.
Payment Schedule: This refers to how your payments will be structured from the time of closing of the loan to until the loan is paid in full.
When going with a smaller bank or a credit union, this option may not be available. A gradual payment schedule is usually offered by most big name banks.
Here's Bank Of America's proposal to me for my office startup loan. This is as of November 2012:

The outlined option is what I went with. Notice the fixed rate of 6.13 % compared with the 5.75% rate for 10 year term in option 1. According to option 1, after first three years, my monthly payments would be in $5,459.74 compared to the $3798.05 in option 3.
I chose to let go of the slightly lower rate in option 1 for a lower monthly payment in option 3.
The balloon payment in option 2 means that at the end of 5 years, the last payment due will be $278,085.55 in full. For obvious reasons, this comes with a lower interest rate because of the low risk incurred by the bank. But I wouldn't go this route at all if you're just starting out.
Prepayment Penalty: The loan proposals you get from your banks will have some sort of prepayment penalty clause. It prevents you from paying off your loan in full for a specified period of time in this clause.
Here's the Prepayment Penalty clause in Bank of America's proposal to me:

The prepayment penalty clause above states that I cannot repay my loan in full during the first two years. If I pay the loan off in full in the third year, I'll be responsible for an extra penalty of 3% of the original loan balance on top of my scheduled payments of principal+interest. If it's in the fourth year, i'm responsible for 2% of the original balance, and 1% if paid off full in the fifth year.
After five full years, I can have the loan paid off in full with no penalty.
The Principal Reduction clause states that anytime during the term of the loan, I can make extra payments on my monthly bill to reduce my principal balance without paying it off in full within the first five years (to avoid the prepayment penalty).
Collateral:
Some loans will require collateral such as life and disability insurance for loans of certain size. Why? because the practice depends on us. If there's disability, the banks will consider this as a risk of unable to pay loans. My loan is under 380K with Bank of America, so it was not required of me. This threshold may be higher or lower depending on which bank you go with, but make sure to find out.
Bank of America required me to put their name on my business insurance as a payee before closing of the loan.
Refinancing:
You may consider refinancing your loan after certain period of time to take advantage of lower interest rates from the same bank or from another bank. Make sure to find out from the banks what the refinancing rules are.
I was not allowed to refinance during the first two years of my loan. I've just passed my two year mark of my loan term, and I'm in the process of refinancing my loan. I'll post on this in the future as soon as everything goes through.
Conclusion
Start Early – Start talking to banks as early in the process you can when looking for space. Don't get overwhelmed or think banks won't lend you because of your student loan debt.
With most dentists coming out of school or residencies with debt of $300K +, the banks are still willing to lend you money to start up an office. However, your interest rate and other terms of the loan will vary depending on the banks' assessment of your credit risk.
You need to think about the loan terms and payment types. Payment and prepayment penalties can have a significant impact on the cost of your loan.
Only borrow what you need: Consider your personal expenses including your student loan debt obligation to help you figure out how much you'll need to borrow. Banks will throw money at you, you don't need to borrow it all.
Don't over-analyze: As dentists, we have a habit of looking at the finest details and over analyzing every bit of information.
Talk to few banks, find out the loan terms and try to negotiate with each one.
Stick with one of the big banks that knows the business of dentistry and has been lending to dentists for years.
Before you're ready to sign on the dotted line, run the numbers by your accountant.
Take the leap and go for it!
Leave your comments below and let me know if you have questions. Or, leave me your feedback and let me know how it's going!
If you found this post helpful, don't forget to share!